How do you grow a garden in Fishers, Indiana when you don't have space or don't want to use a chunk of your yard? You do it at a city park instead.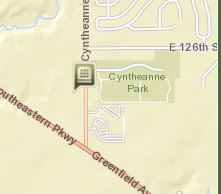 In my book, Spot the Difference in Fishers, Indiana: City Parks Edition, one of the parks shown is Cyntheanne Park on the Eastern side of Fishers. This park has one unique feature, the Community Gardent Program (CGP), which is to allow community members to garden. Residents of Fishers can reserve a garden plot for a summer. There is a cost of $30 to reserve either a 10-foot by 10-foot conventional or organic plot. There are also a few four-foot by nine-foot raised gardens that can be reserved.
Gardening spots can be reserved online at https://www.playfishers.com/193/Community-Garden . There is a fee for the 2020 summer season of $30 that will allow you access to your plot starting April 18. The city has a limited number of plots available, so you'll want to reserve early to ensure you get access!
Conventional – 26 plots
Organic – 16 plots
Raised – 11 plots
While the city website indicates the gardens are open year-round, an email from the parks department indicates the gardens open on April 18th. Either way, they are available on a first come, first served basis.
Cyntheanne Park is located at 12383 Cyntheanne Road, just south of 126th Street. In addition to the gardens, it also includes a number of multi-purpose athletic fields, a play area, a natural area, a 1 mile paved trial plus a natural-area grass trail, a seating plaza, playgrounds for ages 2-12, picnic tables, restrooms, pickle-ball courts, and more.