The White River flows along the entire West side of Fishers. This is a fantastic asset that has a lot more to offer than a strip of old railroad tracks.
A group has been working to build a plan for the improved usage of the White River through Hamilton and Marion counties. I've posted a little bit about what they've been doing and will be posting more in the future. Of immediately importance, however, are a number of planning engagements over the next few days that will allow anyone to come and provide input to their plans. At these events you will gain insights into what has been happening on and around the river as well as the plans that are forming. The following image includes the dates happening this week:
UPDATE: Due to the weather, the meetings for 1/30 at MIBOR and Sun King Brewery have been postponed to 2/13 at a location to be determined.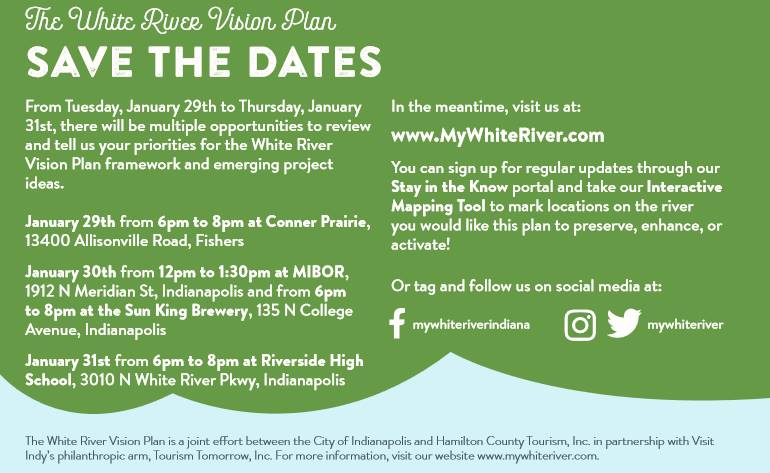 When I've attended one of these events in the past, there was not a formal meeting, but rather a chance to see some of the plan and provide direct input to the group. This has included home owners asking that the plans leave their land alone to adventurers asking for more activities to be created. There are also those simply looking to understand more about what is available in the area.
These meetings are this week (the week I'm writing this), but the planning will be ongoing. You can always get more information or find the latest gathers on the MyWhiteRiver.com site. As mentioned, the planning covers the area shown in the following image: