The release of Yowza Publishing's fourth title is now complete. You can get Spot the Difference in Fishers, Indiana: City Parks Edition on Amazon today! This marks the fourth book published by Yowza Publishing and the first full-color book.
In Spot the Difference in Fishers, Indiana (Spot) you not only get to learn a little bit about the city parks that are within Fishers, Indiana, but you also get to also have a bit of fun. For each of the parks shown in the book, you are given two pictures that are very similar. The first picture is a real picture of the park. The second picture is the same picture; however, a few changes have been made and it is up to you to find those changes. Each park follows a similar layout, which includes a few extra pictures as well as an indicator for the number of differences you should be able to find: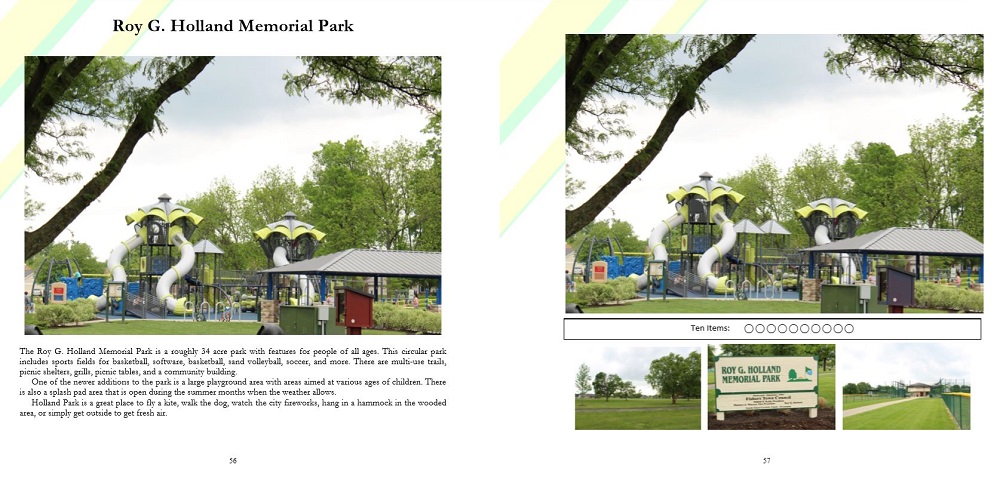 Most cities have parks. These includes city parks as well as neighborhood and other private parks. Fishers, however, has a large number of city parks relative to the size of the city. There are two parks that include sledding hills. There are several parks that have fishing lakes as well as a couple of locations to fish in the White River. Several of the parks boast athletics including baseball diamonds, basketball courts, soccer fields, and football fields. There are also pickle ball courts as well as Frisbee/disk golf courses. One park has "off road" biking trails that wind through the woods as well as tree houses. There is a splash-pad in one park. There are docks and a public beach as well as a ton of playgrounds ranging from simple swings to complex contraptions such as those shown in the picture above.
There are two new parks being developed in Fishers. The irony is that both are easy to confuse with existing parks. One will be the Nickel Plate Trail linear park that will replace the existing Nickel Plate Railroad tracks. This is not to be confused with the existing Nickel Plate Trail that is a part of Cheeny Creak Nature Park. The other will be the Geist Waterfront park, not to be confused with the existing Geist Park that features trails, bird-watching, access to Fall Creak and Geist Reservoir.
If you are wanting to know what parks are around Fishers, this book will quickly give you a glimpse. As our newest book, we hope you enjoy it!
Buy the book now: Amazon